Is your swimming pool in need of a remodel? Are you looking to build a new pool? Does the finish of your swimming pool need repair? If you answered yes to any of those questions, Weber Pools can help you! We want to take your vision and turn it into a reality. Whether you need a residential or commercial swimming pool, we can put together and implement a plan from start to finish no matter what the scope or size of the project is.
New pool – consider it done
Remodel of your existing pool – consider it done
Hot tub – consider it done
New fountain – consider it done
New finish – consider it done
New deck or deck repair – yeah we can do that too and so much more!
Because of our sister companies and different affiliations, we can cover all of the trades and keep it under one roof, with one payee and one supervisor. This is key because our job is to make this an easy process for you with one person to talk to that will be handling the project no matter the size. Weber Pools is also extremely environmentally conscious and primarily works with Jandy Pool Products for motors and pumps, lighting, heating and so much more. We chose Jandy because of price, customer service and overall reliability. Here is a sampling of some of our work…..
New construction of a swimming pool built by sister company Pool Visions
New plaster on a commercial swimming pool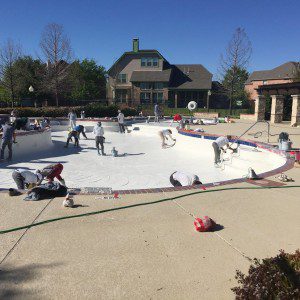 Pressure washed and sealed flagstone deck
New spray deck with decorative lines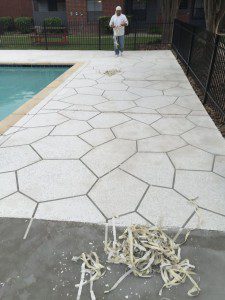 New equipment set installed with Waterway DE Filter and variable speed pump including new Jandy valves and plumbing from the ground up.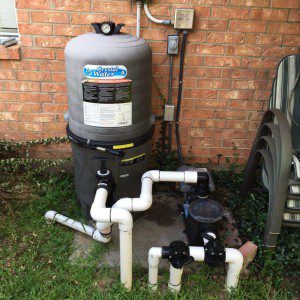 At Weber Pools we also know that equipment can break which is definitely something we can help you with too. Our goal is to become your one stop pool company for all your needs. Our staff has an abundance of knowledge, and most of our staff have been with us for ten years or longer! We believe that by having technicians for that long along with paying them at the top of the industry scale, it in turn provides you with superior service. We also keep an eye on new technologies and beta test them when possible before offering them to our customers. There are many technologies out there now that are worthy of our customers dollars and can make their pools safer and more cost efficient.
We would love to talk to you about your pool needs, offer you real solutions to meet those needs, while also saving you money. You will be pleasantly surprised as we have a different philosophy than most; we want you as a longtime customer, and we want to maintain, repair and take care of all of your swimming pool needs!