Swimming pools provide opportunities for individuals to exercise, unwind, and have fun. They encourage quality time with family, friends, and loved ones, stay fit and healthy, and refresh yourselves under the heat of the sun. They can even increase the value of your property.
With all these appealing factors, you may be wondering what type of pool would be most advantageous for you and your family. Here's a closer look at the most popular kinds of swimming pools around to help you decide:
Family Pools
Also called recreational swimming pools, this type of pool is designed like a smaller water park to suit families. It may include entertainment features such as trendy slides, tunnels, caves, and other interesting water features. Their design can accommodate both children and adults. However, most family pools are ideal for entertainment and activities, not for swimming in laps.
Indoor Pools
These pools are insulated and located indoors. This makes them ideal for training throughout the year in areas with colder climates. In general, the room's insulation lets homeowners heat their pools for lower prices compared to their outdoor counterparts. Weber Pools' weekly pool service team can occasionally check whether your heaters are performing well for your needs.
Natural Swimming Pools
Originally conceptualized in the 1980s in Europe, natural pools are a combination of water gardens and swimming pools. They can be designed in multiple ways, including freeform, modern, rustic, or architectural. Its walls are usually covered in good bacteria to act as a biological filter. Moreover, pumps and skimmers help the water circulate properly in the pool's regeneration zone.
Natural pools are a great alternative to gardeners and green advocates, given the various plants that can be grown in and around them. Part of this type of pool's appeal is how the water is chlorine-free and typically see-through.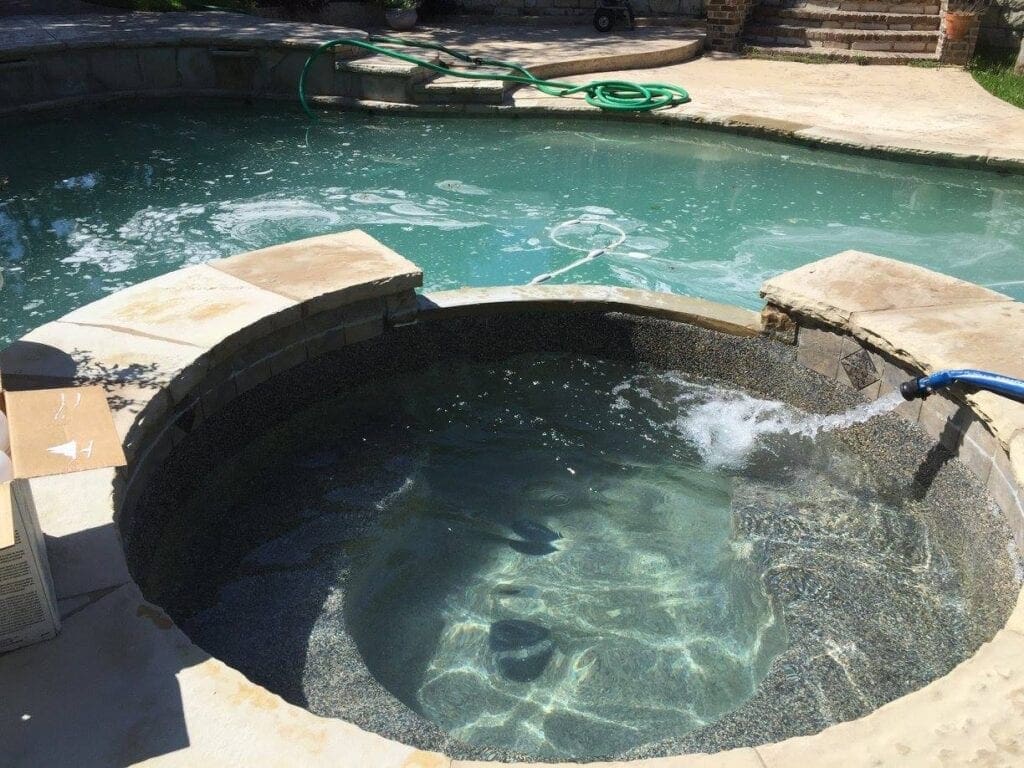 Infinity Pools
Infinity edge pools are installed to highlight a view, whether that may be overlooking nature or a city. They are usually more expensive than other designs considering they always require a customized build that can fit the space they will be installed on.
When executed properly, the pool shows an illusion of the water smoothly dropping over the edge. It can also be called by its many other names, such as the vanishing edge, zero edge, disappearing edge, or negative edge pools.
Spools
Born from the combination of a spa and a pool, spools have become popular for homeowners with smaller properties. They are considered to be more manageable given their size, in contrast to regular swimming pools. Spools are more commonly used for winding down and relaxing at the end of the day.
Above-Ground Pools
Their lower price tags make them more desirable for the working and lower-middle class. They can also be built on rocky terrain, highlighting how easy they are to install on different types of land. Some homeowners may even add a deck to their pool and still spend less on them than the average in-ground alternatives.
Weekly Pool Service in Dallas
Keep your swimming pool fully functional throughout the seasons to continue maximizing all the benefits of having a swimming pool. Learn more about how Weber Pools can perform maintenance, repairs, and replacements for your pool by calling the team today!