A backyard pool promises year-round fun in the sun for the kids. But it's also a huge responsibility. More children between the ages of one and four die from drowning than other causes, except for birth defects. Meanwhile, non-fatal drowning can lead to brain damage and other long-term health problems.
For every child who dies from drowning, eight more are sent to the emergency room for non-fatal drowning. Keeping this in mind, you always have to be alert to prevent your kids from getting hurt.
Supervision is the key to swimming pool safety, especially when your kids are beginner swimmers and when they can't swim yet. They always have to be within your visual reach and within your arm's reach. If nobody's around to supervise them while you attend to something, keep them out of the pool area first.
As a trusted residential pool cleaner in Dallas, Weber Pool shares some valuable tips about keeping your kids safe in your backyard pool.
The Basics of Water Safety
It's always better to be safe than sorry. Even though you're confident in your lifeguard skills and you know that 911 will always be there, it still counts to learn cardiopulmonary resuscitation (CPR). It also helps to have U.S. Coast Guard-approved life jackets by the pool.
Swimming lessons are another thing to add to your list. The American Academy of Pediatrics suggests signing kids up for them as a layer of protection against drowning. Take note, however, that swimming lessons aren't a foolproof preventive measure. They aren't a substitute for adult supervision.
Speaking of supervision, that brings us to the final point.
Avoid drinking alcohol when you're supervising kids in the pool. There's a time and place for pool parties where you can loosen up with your favorite drinks. But if there are kids around, especially those between ages one to four, you need to stay on high alert the entire time.
Alternatively, if you're with other adults, you can take turns being water watchers for the kids. Put down your phone or other gadgets during your shift. Avoid other poolside activities that will divide your attention and cause you to lose focus on the kids.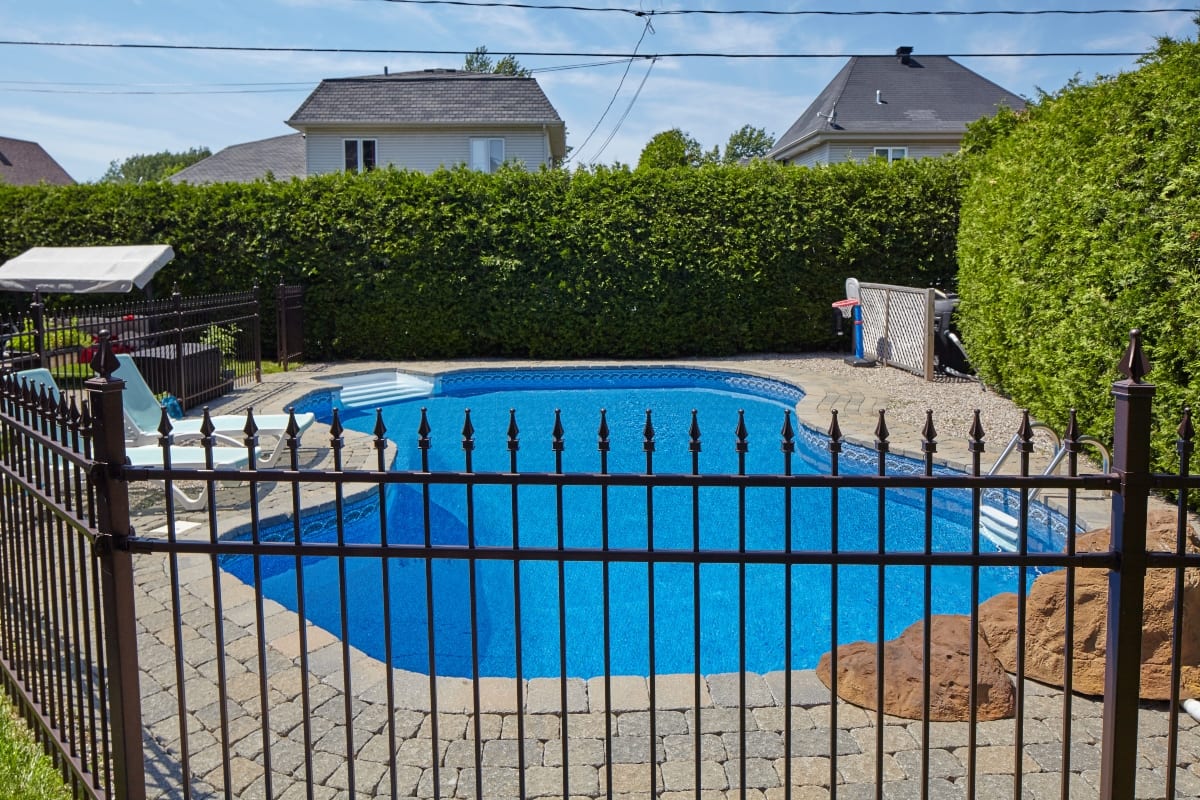 The Importance of Fences and Alarms 
There's more to water safety than personal attentiveness. You also have to consider fences and alarms to keep children out of the pool, especially when nobody's around to supervise them.
Consider fencing in the pool area from the rest of the house. Remember the rule of 4's in swimming pool safety: surround it with a fence that is at least four feet high, on all four sides. The fence shouldn't be more than four inches off the ground and the vertical slats shouldn't have gaps wider than four inches.
Make sure the latch of the fence gate is at least 54 inches off the ground so little kids can't reach it.
Install pool alarms and other alarms on doors leading to the pool area. Install swimming pool alarms that detect unusual waves on the pool surface. Or install door and gate alarms for all entrances that lead to the pool area. This way, you can block pool access before they get in the water unattended.
It's also important to keep your pool clean at all times. Otherwise, the pool could harbor bacteria that cause ear infections and other types of infections, especially when you or your child have open wounds.
Weber Pools provides different pool maintenance plans for Dallas residents. Call us at 817-481-7665 to discuss the most suitable plan for you!