A backyard pool is a luxurious amenity, and it's a great place to cool off and relax in the summer heat. Parties by the pool are also a lot of fun for friends and family. If you're looking to take your pool experience to the next level, consider remodeling your pool to incorporate new features. Read on for some great ideas.
Water features
Remodeling your pool to add water features will definitely take it to the next level. You can add a simple fountain or go all out with a waterfall or even a lazy river. Other great options are a water wall and a rain curtain. The right features will complement your home's style and make swimming even more enjoyable.
Spas and hot tubs
Whether integrated into your pool or adjacent to it, a spa is the ultimate in outdoor luxury and relaxation. You can swim laps and enjoy water activities with your loved ones in the pool, and afterward, you can unwind in the spa or hot tub.
Installing a spa or hot tub can be a costly endeavor. However, it is an investment that is well worth the money. You will enjoy it for years, and it will also increase the value of your home.
Poolside patios
Building a patio creates additional outdoor space you can use for lounging, outdoor dining, and other activities. There are many different types of pool patios, so you can easily find one that perfectly suits your needs and style.
To make the most of your pool patio, consider doing the following:
        Adding comfortable furniture for lounging and relaxing.
        Install a shade canopy or umbrella to keep out harsh sunlight.
        Using potted plants and flowers to add color and life to your patio space.
        Adding lighting to your patio so you can still use it even at night.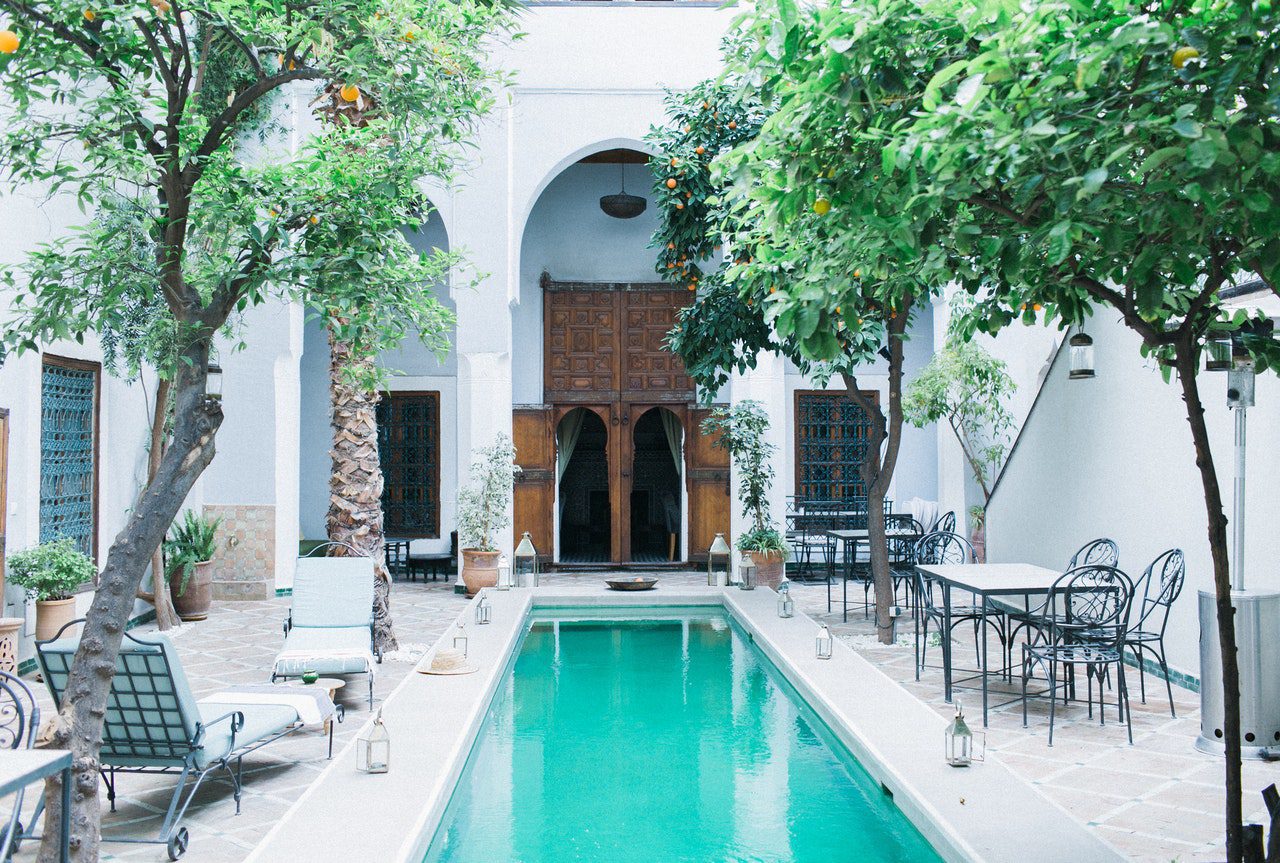 Fire Pits
A fire pit creates a cozy and romantic atmosphere, ideal for relaxing before or after a swim. It's also ideal as a focal point for your outdoor space: you can surround it with stylish and elegant seating to create a sitting area.
You and your loved ones can gather around your fire pit, tell stories, roast marshmallows, or just enjoy each other's company. What's more, a fire pit makes your outdoor space usable even in the colder months.
When selecting a fire pit for your pool area, keep a few things in mind. First, you'll want to ensure that the fire pit is the appropriate size for your space. You'll also want to consider the fire pit material and whether it will be safe to use near your pool. Finally, you may want to think about how you will use the fire pit and what features would be most important to you.
Upgrade Your Pool With Help From Professionals
Elevate your backyard pool with water features, a spa, and other upgrades to add beauty and functionality to your outdoor space. Whether you want to transform your backyard pool into a relaxing oasis or add more kid-friendly features, you can rely on the team at Weber Pools.
We have the skills and experience, as well as the necessary licenses, to transform your above-ground pool to your liking. Just let us know what you want, and we'll work hard to make your dream pool a reality. Reach out to us today to learn more about our pool remodeling services in Dallas and surrounding areas.