When installing a swimming pool in the yard or buying a house with a pool, you will most likely consider nighttime swims. As such, lighting will play a significant role in your positive pool experience. 
The right lighting can also give your pool area a striking and dramatic, yet elegant look. There are many ways to play on the idea and create a magical setting. 
Luckily, our pool service in Dallas has the best tips for enhancing your pool using strategic lighting. Read on to learn how to give your pool a nighttime appeal. 
Pool Deck Lighting
Pool decks often have a lot of activity, so lights will be beneficial to the space. You can add both in-ground and above-ground lights to open the deck visually and create a nice and warm ambiance. You can experiment with in-ground lights to create a more contemporary look, as well. 
Accent Water Features
Many pools have water features that deserve their own spotlight. Do you have a waterfall or a unique fountain that you can draw attention to? Accentuating a waterfall with the right lighting can provide a dancing water effect and wonderful patterns. You can also emphasize the water splash by aiming a light on where the waterfall and pool water meet. It will highlight the movement and catch the air bubbles. 
Structure Lighting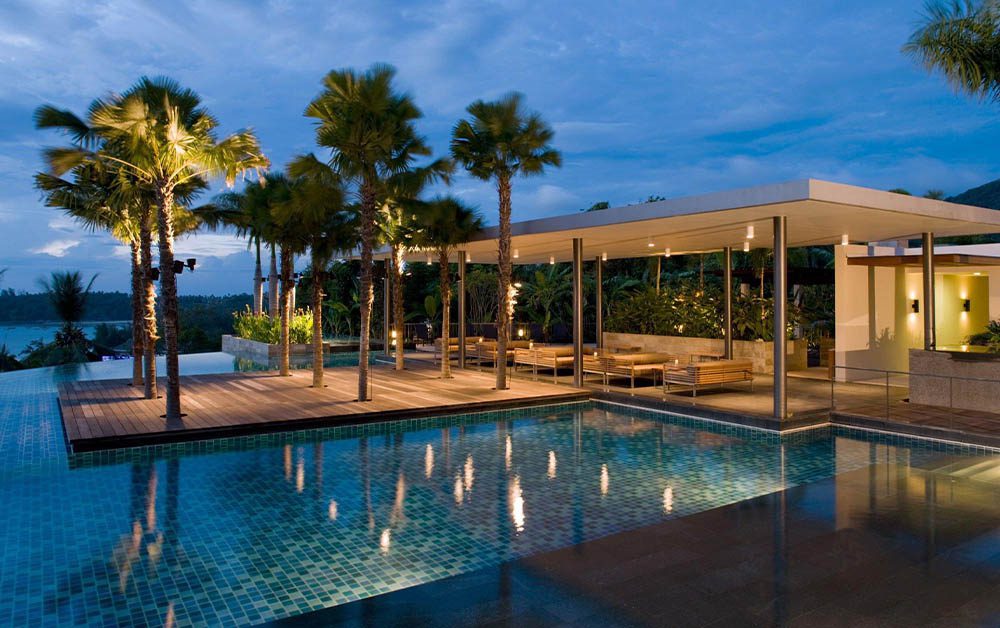 Illuminating structures near the pool create a resort-like atmosphere. Pergolas are the perfect places to use lighting and create a magical setting. Highlight the pergola structure by installing uplights near the post or give the pergola a festive look by adding a string of overhead bistro lights. 
You can also illuminate your pool dining space using soft light. The good thing about tables is that the wiring and fixtures can be hidden. 
Under Cap Lighting
The best lighting effects are achieved when the light source is indirect. This is possible with under-cap lighting, which is hidden yet exposes its surroundings. Use under-cap lights to highlight the texture of a nice wall or use them around fire pit benches.
Put the Accent on Trees and Plants
Another way you can create a resort feel in your pool area is with lavish landscaping and illumination. Adjust your lighting to the size of your plants or trees. Nestling several lights in the flower beds around your pool will give it a more tropical feel and appearance. Play with the light to extend or elevate the landscape. 
LED Lighting
LED lighting may be used throughout the home and garden, and around the pool, too. LED lights are very easy to install, last longer than regular bulbs, and are cost-efficient. They are easy to care for and once installed, you won't have to worry about replacing them for a while. Just make sure they are secluded in some way since their light is quite intense. 
Pool Services in Dallas
: Pool Areas Made Comfortable
Covering the Plano and Dallas/Fort Worth areas, Weber Pools boasts a wide range of pool services. We provide pool cleaning and maintenance, repair and retrofit, desk and lighting repair and deco seal, custom pools and spas, and more.
Reach out to our team today to get a quote!